For U.S. wineries, sustainability isn't just about how they till their land and make wine, it's also in the packaging they use – and choosing domestically-made glass wine bottles fits perfectly into their brand story.
"We're looking to always make sure we have the highest quality products – from growing the grapes all the way to our packaging," said Jesse Lange, Winemaker and Winegrower at Lange Estate Winery & Vineyard in Dundee, Oregon. "We try to make world-class wines and it needs to be in a world-class packaging. The glass bottle is parcel to that."
Jesse Lange works with Pioneer Packaging, a packaging distributor in the Pacific Northwest. Pioneer Packaging purchases stock wine bottles from O-I and supplies those bottles to wineries throughout the region.
"As a company, we like glass packaging," said Mike Steele, President & CEO of Pioneer Packaging. "Glass is infinitely recyclable, completely inert and protects against sunlight."
Leaving Behind a Lasting Legacy
Both Lange Estate Winery & Vineyard and Pioneer Packaging are family-owned businesses. For Lange and Steele, legacy is more than just leaving their businesses to the next generation – it's about leaving the world better than they found it.
"It might be the most important thing you leave your children – the legacy of a world where they can breathe fresh air and farm fresh food," Lange said.
That means sustainable practices, and it means choosing domestically sourced glass wine bottles.
"When I was a kid growing up on the farm, sustainability wasn't a media buzz-word," Lange said. "When you get married and have children, you're bringing new generations into the farm and into the world, and sustainability takes on a much deeper meaning and requires a holistic approach."
"We live here, we work here, and we raise our kids here," Steele said.
Jesse's parents started the winery with a goal of growing world-class wines. Jesse runs the vineyard and winemaking operations now, and his sister, who lives in Los Angeles, comes into town to help with harvest and bottling. His parents still live on the property and are actively involved in operations.
"We don't just live a lifestyle of wine. This is our livelihood," Lange said.
High-Quality Locally Made Glass Wine Bottles
With that livelihood comes a holistic approach toward sustainability. In addition to holding several third-party sustainability certifications, the winery packages exclusively in domestically made glass wine bottles from O-I.
"One of the areas – in Oregon and even nationally – we felt wine was running a deficit was the carbon footprint of our glass sourcing," Lange said. "For us, trying to be a small catalyst for change was sourcing really high-quality glass that was produced domestically. We made that a mission as part of our commitment to sustainability."
O-I bottles supplied to Lange Estate Winery & Vineyard through Pioneer Packaging are manufactured locally in the pacific northwest.
Lange pointed to glass bottles shipped from China – and how significant the carbon footprint is of shipping the glass to the pacific northwest.
"The carbon footprint of bringing Chinese glass into the country to bottle our wines in and ship them all over the world is pretty significant," he said. "If we're able to sustain, support and even grow domestic glass manufacturing here in the United States, I think that's a major plus for all beverages that are bottled in glass – wine included."
Sustainability Merits of Glass Wine Bottles
Glass bottles from O-I aren't just manufactured locally. Glass packaging is inherently sustainable and the ideal material to support a low-waste circular economy.
Recycled glass, which is called cullet, is a main ingredient in creating new glass wine bottles. The more recycled glass that's used to create new bottles lowers energy use and creates less emissions.  The bottles for Lange Estate Winery & Vineyard have an average of up to 70% recycled glass.
Simply put, U.S. wineries purchasing glass bottles from O-I are practicing sustainability.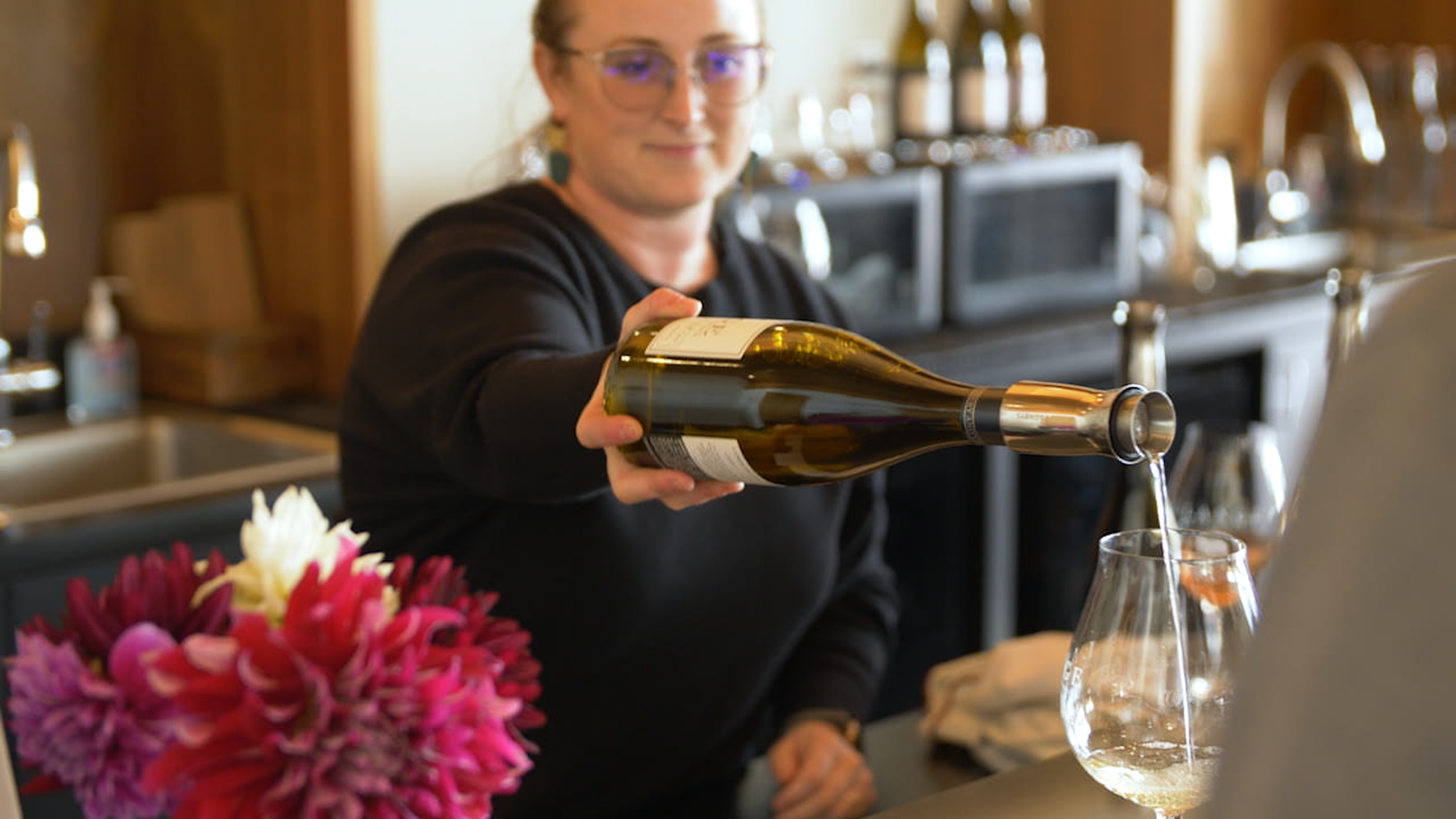 "The wine industry, in general, is very focused on sustainability in their vineyards, in the way they farm, and in the packaging they use," Steele said. "Glass that's made 27 miles away from over 70% recycled glass is a no brainer."
"Sustainability becomes a responsibility to leave a place better than you found it, and it becomes less about you and more about your children and next generations – from the way you farm all the way to the bottles where the wines go," Lange said. "The time is now to continue to make efforts and harden the resolve toward sustainability for our planet. It's that important."